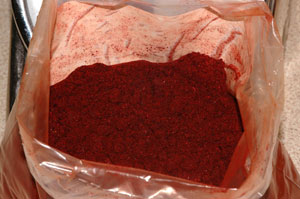 This is the picture of the first bag of Robin Red Haiths that I bought in partnership with my friend Sandro back in 1996.
A very expensive shipment to receive about 23 kg. of precious mash that would have ended up, in 10% dose, in our strategic birdfish for rivers and canals.
Robin Red is a mixture of spices (paprika above all), sugars, oils and pigmenting ingredients.
An explosive mix of nutrients and appetites for all major cyprinids (the same ingredients are used in competition bait for angling).
Over the years the composition has changed (in my opinion) at least 4 times to adapt to the changing regulations in England (where in the meantime some ingredients were outlawed) and then in Europe.
Let's not forget that Haiths Mill produces feed and has to comply with strict regulations which used to be bypassed by the words "not for animal feed" but which can no longer be disregarded even with the phantom "hook bait" label which technically can only be applied to minor changes.
The changes have not always been to everyone's liking! I had already started to develop a substitute, with the help of the ornithological technicians here in Italy.
In my book Boilies I describe in detail the ingredients that make up the bird food ingredient according to the development I tried.
In this blog post (following the video recipe in italian, click here to watch) we will not try to make an exact copy but a good compromise in taste and attraction compared to the original with easy to find and cheap ingredients.
To optimise the process I don't use broken or ambiguous amounts of flour, but round up to the packages I have found commercially so there is no waste or leftovers.
My goal is to create a product more practical than the original and give you the cue to get, if you want, to an almost perfect replica ... just follow these instructions, take into account that the paprika should be raised and maybe read the specific chapter of the book ...
I remember that we are not creating a mix, but an ingredient that will be used to make mixes.
The first project called "supermarket" is a low cost version with all the ingredients available in a normal super market.
An ideal choice for beginners and for those who want to create a spicy red fish mix suitable for combining birdfood mixes, birdfish mixes and basic red fish mixes.
The most distinctive ingredient is strong paprika, which can be purchased in 1 kg bags from Big supermarkets at a very competitive price of around 7-8 euros. In the original, there is a large quantity of this spice, which certainly exceeds 30-40 % of the total.
To create a mash that is easily modulated, we will use biscuits, 500 grams of which are needed in the cheapest discount version at around 1 euro per kg.
Finally we need 1 kg. of muscovado, a raw cane sugar which I will describe later.
Finally I'll add a 50 gram touch of spice, choosing nutmeg which is one of my favourite spices.
The game is done...grind the ladyfingers, spray with 50-100 ml. of spicy chilli olive oil (choose the dose according to the spiciness you want), then mix the muscovado, the moistened biscuit and the paprika grating the muscovado lumps and mix well. Finally, shake everything well in a sufficiently large container, adding the nutmeg.
The base is dictated by 3 solid ingredients of taste and nutrition on which to base the whole project.
Let's start with an ingredient well known to anglers, a flour called Epiceine, aromatic and sugary, slightly spicy, which can also be replaced with Pain d'epices, another similar powder. These ingredients can be conveniently found in fishing shops and Decathlon shops under various brands, including Sensas, Van den eyden, Trabucco etc.
The second ingredient is bread... the basis of all coarse groundbait. Toasted bread crumbs, even coarsely ground (this can also be found as an ingredient for bait, even in red, or just at the bakery or super market).
The third ingredient is the Muscovado (read on Wikipedia what it is by clicking here) a cane sugar very raw and rich in molasses, dense, sticky and moist, a source of nutrients and taste (can be replaced with the molasses flour but is different in taste).
The spicy part of the mash is mainly made up of sweet paprika which in the original covers almost 50% of the mash, whereas in our case it will be dosed more appropriately to make it more usable in larger quantities.
There is also curry and coriander powder.
As an aromatic taste, we can also add coffee, which for years was the unknown factor that I was unable to discover and which I identified thanks to an oenologist friend to whom I let sniff the original mash and who clearly found some ingredients that had gone unnoticed by me.
This category of professionals has a nose trained to recognise many spicy taste nuances and my friend clearly identified coffee, cinnamon and vanilla (which we will not include).
The last spice on the list will be hot chilli, which will be introduced in liquid form using an olive oil flavoured with infused chilli. If you want a good dose of hotness, you can also use self-produced habanero oil.
(click here for a tutorial on how to make habanero oil).
We can't use cofee powder as it's too bitter and acidic and we'll have to use freeze-dried instant coffee mix that dissolves in water.
We now come to the infamous pigment component that characterises this blend in chemical terms. We will be interested in including lycopene, canthaxanthin (red carophyll), anthocyanins, flavonoids and betaine.
In order to include these substances we will need red carophyll from  ornithological market where it is used to colour the plumage of canaries red, triple tomato concentrate for the lycopene and other carotenoids and red beet flour rich in flavonoids and anthocyanins (which can be replaced by carrots powder which is more difficult to find).
First mix the bread, epicein and muscovado and sift them to break up any lumps.
Then we add the powdered spices and stir everything together, and then we move on to the wet component.
The red carophyll is dissolved in 50 ml of water, which is then emulsified with 150 ml of spicy oil and distributed with a sprayer over the flour until it is well absorbed, while stirring to remove any lumps.
At this stage I also recommend the introduction of 20 grams of vitamin C dissolved in water as a further antioxidant if you want to produce a lot of Robin self and then store it.
The final step is the addition of the triple tomato concentrate, which in turn must be absorbed by the flours.
At this stage I would recommend using a whisk drill to make life easier for large quantities.
We come to the doses followed in the video, which I remind you are optimised for the packaging of the ingredients (and which can obviously be varied at will, creating more spicy, spicier or sweeter versions).
1 kg of Epiceine
500 grams of Muscovado
400 grams of sweet paprika
400 grams of toast
250 grams of red beetroot powder
100 grams of instant coffee
85 grams of curry
55 grams of coriander
25 grams of red carophyll
150 ml hot olive oil
50 ml. water
To obtain a little more than 3 kg. of Robin self made.
This ingredient will be dosed from 10 to 30% to make Red Birdfood, Red fish etc. with slightly higher dosages than the original.
Soon I will propose some reference recipes, from the simple birdfish mix to the spicy red birdfood for hunting.
As always, I leave you with the photo gallery.
And that's it...
Our professional Robin self is more complex and the ingredients are not only to be found at the super market. You have to search online, in bird shops, at the fishing shop and also at the super market.
In the book Boilies you will find the professional recipe for Robin Red replica.
---