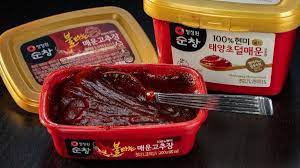 The recipe I am proposing today allows us to make a birdfood boilie with a different attraction than usual using ingredients derived from the best legume: soya.
A bait with a strong, decisive and fermented taste.
The absence of animal meal and the acid-organic attraction makes it possible to fool carp that are very suspicious of more common ingredients.
To create the mix we use 60% boilie mix (4 equal parts corn meal, toasted fatty soy meal, semolina and skimmed milk powder), 20% sweet and dry bird-food ingredient and 20% inactive animal feed yeast.
60% boilie mix (30%semolina30%soy flour20%korn flour20%milk powder)

20% dry egg bird-food

20% inactive yeast
(Want to make your own bird-food ingredient? Click here to read a self-made recipe)
The liquid part is crucial in this recipe because it contains all the attractiveness of the bait.
It is a question of mixing different ingredients together the day before making the boilies, so as to create a synergy of taste.
We need red miso paste, an oriental product made from fermented soya beans, Tamari soya sauce, rice vinegar, cod liver oil, soya lecithin, NHDC-type sweetener and butyric acid.
As you can see, the liquid part is much more complex than the solid part!
mix together with an electric blender:
100 gr. miso paste

 20 gr. soy lecithin

 50 ml. Tamari sauce

 30 ml. cod liver oil

 20 ml. rice vinegar

 05 ml. NHDC

 half ml. butyric acid
This quantity is for one kg of mix.
Pour the resulting liquid part into the mix, stir well until it is completely absorbed.
At this point pour in the eggs (about 5) until the right consistency is achieved for extrusion and rolling operations.
These are freshly rolled soft baits. I recommend steaming them after letting them stand for about ten hours. This way they will become more compact.
This sour bait can be stored in a bag by simply adding 3 grams of potassium sorbate and 2 grams of calcium propionate per kg.
Do not bag until it has dried for 24 hours.
In my English-language book "Boilies" you will find all fermented soya ingredients and many other unconventional products.
click here to download the book in PDF format