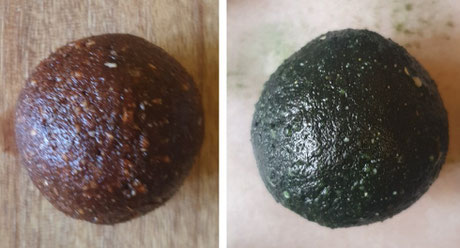 Many of you have asked me to create baits to be used sparingly and without pre-baiting (this does not mean that they cannot also be used for baiting) to catch suspicious large carp or to tackle difficult environments full of natural food of high biological value.
So I have decided to take things up a notch and offer two different recipes for use in waters rich in shellfish or crustaceans (which are the most important foods for large carp) on a professional basis, as if you were making the two mixes to sell them.
The aim is to create a technical, tasty and highly digestible birdfood base, which is then differentiated with 20% ingredients that determine the distinctive taste and attraction characteristics of the two distinct mixes.
For the base, I opted for just 3 ingredients, but they are already complete in all respects, being semi-finished products. This practice means that nothing is ever wasted or left over.
The ingredients on which I have based the project are two bird-food and whey protein.
The base will be as follows:
40% dry egg biscuit bird food (Quikò, Cede, Nectarblend ecc.)

30% C.L.O.

10% WPC 80
We have now created 80% of the finished mix which we will complete, in different ways, to create the two mixes and their boilies.
(Do you want to use a self-made bird-food? Click here to read the recipe)
Total GLM
To complete the shellfish version, we will add mussel meal, GLM extract and spirulina algae.
The result will be a modern, simplified and time-adapted version of my old Green fishmix, one of the workhorses of the Big Fish company I worked with, the detailed recipe for which can be found in the pages of my book " Boilies".
A mix that can really make a difference where fish are very careful about what they eat.
the complete mix:
40% dry egg biscuit bird food (Quikò, Cede, Nectarblend ecc.)

30% C.L.O.

10% WPC 80

10% mussel meal

05% GLM extract

05% spirulina powder
The liquid part, designed to hyper-hydrate the bait and make it immediately present in the water from the first stages of immersion, consists exclusively of unsuspected natural liquids that carry the signal in a similar way to what large fish look for in nature.
100 ml. GLM liquid

50 ml. kelp liquid

25 ml. glycol

eggs as much as necessary
Total Krill-Liver

Another glorious lure from my past, one of my favourites, which I have used in lake and river, always reaching the target fish!
Also present in the historical version in my books. (Boilies, how to buy it)
The complete recipe:
40% dry egg biscuit bird food (Quikò, Cede, Nectarblend ecc.)

30% C.L.O.

10% WPC 80

10% Krill extract

10% chicken liver powder
The liquid part completes the project as in the previous recipe.
The Normal dose per kg of mix includes:
100 ml. di Krill liquid

50 ml. red fruits vinegar

25 ml. di glycol

eggs as much as necessary
Both baits, due to their complexity, should only be steamed for at least 8 minutes in the 20 mm diameter.
To make the crumbled bait and bait material with bags, it is best to create bricks no thicker than 2 centimetres and cook them in boiling water covered with food-grade film so as not to come into contact with the water itself, as described in numerous articles and videos already posted.
I conclude this article by saying that these mixes structured in this way can also be rolled only with egg and essential oil (garlic for Total GLM and orange for Total Krill Liver) for a more massive use in bait, reducing the costs of the liquid part.
There are some videos on you tube in Italian where you can see the preparation of these boilies.
(video 1 the mix) (video 2 total glm) (video 3 total krill)
As usual, I leave you with the gallery, see you soon.
In my book you can find variants of mixes and more technical recipes according to your more particular needs.
---