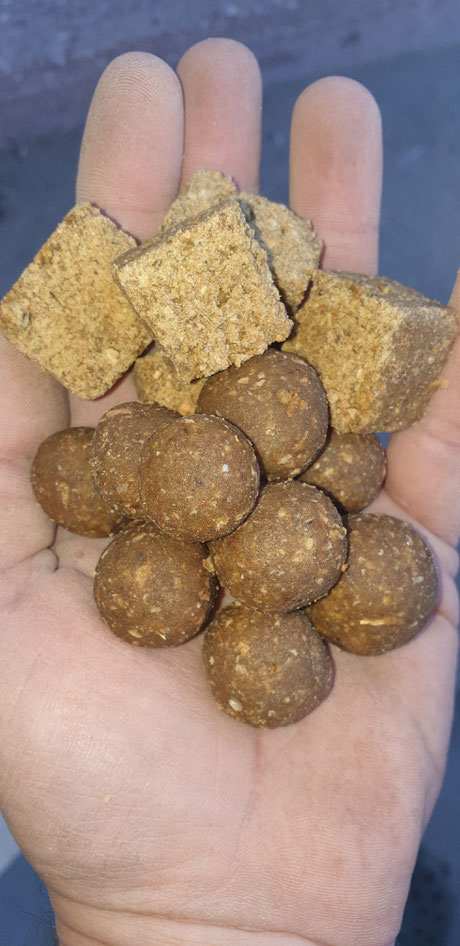 We make two boilies from a base mix of cheap ingredients. A mix rich in taste and nutrition, suitable for prebaiting and fishing. Also large quantities.
I wanted to create two variants that can be used on their own or mixed together with a precise strategy that I describe at the end.
The basic version is an effective and economical bait, salty with a pronounced fishy smell and taste.
there are only 3 ingredients:
the basic Big Bulk mix

self-made or bought fermented fish sauce

eggs
Click here to read how to make your own sauce at home
Composition of the mix:
20 kg.Fine maize flour

20 kg.Sardine flour

20 kg.Soya flour, toasted

20 kg.White bread crumbs

20 kg.Whole milk powder
With these components the mixture mixes compactly and cohesively, does not absorb liquids violently and remains hydrated enough to run in automatic rollers even in diameters of 16-20 without problems.
This kind of basic birdfish mix lends itself to different interpretations by changing the 'bread' variant using bird feed ingredients etc. 
click here to read the recipe for a self-made dry bird food
An interesting variation is to replace white bread with epicein or pain d'epices, which are two more nutritious and aromatic ground bait ingredients than plain bread. This raises the cost a little to 3 euros per kg, with a much higher yield from the flours alone.
Coloured and multicoloured breads are also used in competition baits, which make our balls more aesthetically pleasing... but which do not bring any different taste or nutrients.
This type of mix can be rolled with egg and essential oil only, because carp will learn to appreciate the nutritional characteristics of the mix with baiting and there is no need for a primary attraction component (aroma etc.).
For those who want to roll a more complete and quicker to enter the fishery, the ideal solution is the use of fermented fish sauce squid brand or Tiparos, dosed at 50 ml. per kg. in combination with a good essential oil and perhaps with a minimum dosage of synthetic flavouring.
 The most proven solutions are garlic, black pepper, clove and even orange, which guarantee an improvement in the final taste and speed up the acceptance time of the bait.
I mixed 500 grams of mix with 2 eggs and about 100 ml of Squid brand fish sauce on a cold December day.
You proceed by breaking the eggs into the mix and kneading until they are completely absorbed, then kneading in the fish sauce until you get the right consistency.
4 medium eggs and 200 ml. fish sauce for a version that lasts in the water 5-6 hours, or raising the eggs to 6 and dropping the fish sauce to 100 ml. for longer lasting baits.
As this is a bait suitable for even quick prebaiting before fishing, I don't mind them melting, making them more "fast" and suitable for carp hunting.
In the second variation we cut 450 grams of B.B.E.W. mix with 50 grams of robin red self made supermarket version
(click here for the replica robin red recipe).
But I could decide to use pure paprika, simplifying it even further.
we then created the liquid part with 2 eggs, 100 ml. fish sauce, 3 ml. sweet fruity flavouring (in my case bubble gum), a tablespoon of Sensas Carpix additive and 10 drops of clove essential oil.
As usual, we mixed the liquids and then poured them into the mix and let them absorb well.
(click here for a post about rolling bait)
To complete the mix we needed about 50ml of glycol which was added to keep the boilies moist and hyper-hydrated, this version being more fast.
The final strategy I propose is to make 8 kg. of the basic variant and 2 kg. of the stronger variant and mix them together to cut the cost of baiting.
As a hookbait you will use the stronger ones.
Well friends, I leave you as usual to the pictures in the gallery.
In my books Boilies you can find variants of mixes and more technical recipes according to your more particular needs.
Click here to download the book "Boilies".